Narendra Modi can be the prime minister of the country. But Heeraben (Heeraben Modi) is always a kisser. No matter how high his son is.. he is still a child.. ! That's why these two stand as examples of affection and love between mother and son. Mother's Gandhinagar.. Even if he is in Delhi... Prime Minister Modi goes there whenever he can... and leans on his mother's lap. They eat together with her and have a fun chat. They do foot worship and take blessings.
Hiraben Modi celebrated his hundredth birthday on June 18 this year. On the occasion of his mother's 100th birthday... he wrote an emotional post in his personal blog. In a long post written in the name of Amma, many interesting things were shared. Starting with the definition of mother in the dictionary, the Prime Minister explained what a wonderful story she is. Now the post is going viral. We are presenting the post written by Modi in his blog to the readers as it is..
PM Narendra Modi: Prime Minister Narendra Modi's emotional tweet for his mother
"Mother - is not a word that appears like other words in the dictionary... Many emotions like love, patience, trust are included in this word. Children all over the world have a special affection for their mothers, regardless of country or region. A mother not only gives birth to her children but also shapes their emotions, personality and self-confidence. In that order, mothers sacrifice their personal needs and aspirations without being selfish.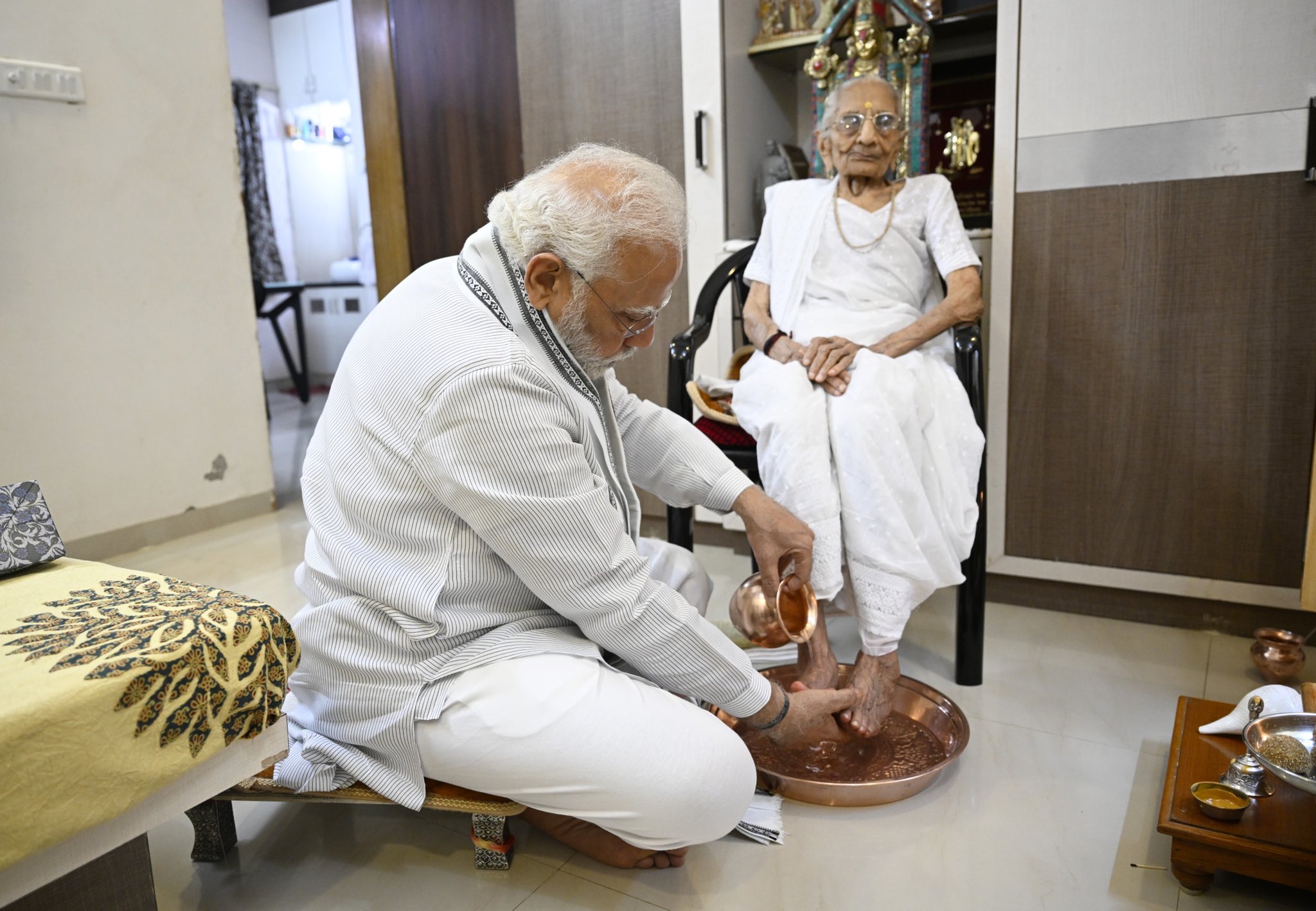 Modi washing his mother's feet
I am very happy that my mother Mrs. Heeraba is entering her centenary year. And I feel lucky to share this occasion with you. This is her birth centenary year… If my father was alive today he would have celebrated his 100th birthday last week. 2022 is a special year for me as my mother's birth centenary begins.. On this occasion my father would have completed 100 years.
Just last week my nephew shared with me some videos of Amma from Gandhinagar. Some young community members came to our house and placed my father's photo on a chair.. On top of that, Amma was engaged in singing a kirtan while playing the manjira. Although physically weakened by the effects of age, she still has the same enthusiasm. At the same time she is mentally active as always. Our family had no tradition of celebrating birthdays earlier. But, our next generation children planted 100 saplings in our father's memory on his birth anniversary.
I have no doubt that my parents are responsible for every good turn in my life.. every good trait in my personality. Even though I am sitting in Delhi today, my mind is filled with memories of the past. My mother is as extraordinary as all mothers are, but also ordinary! As I am writing about my mother, I am sure many of you will relate to my description of her. Similarly, while reading my words, your mother's form is sure to flash on your mind.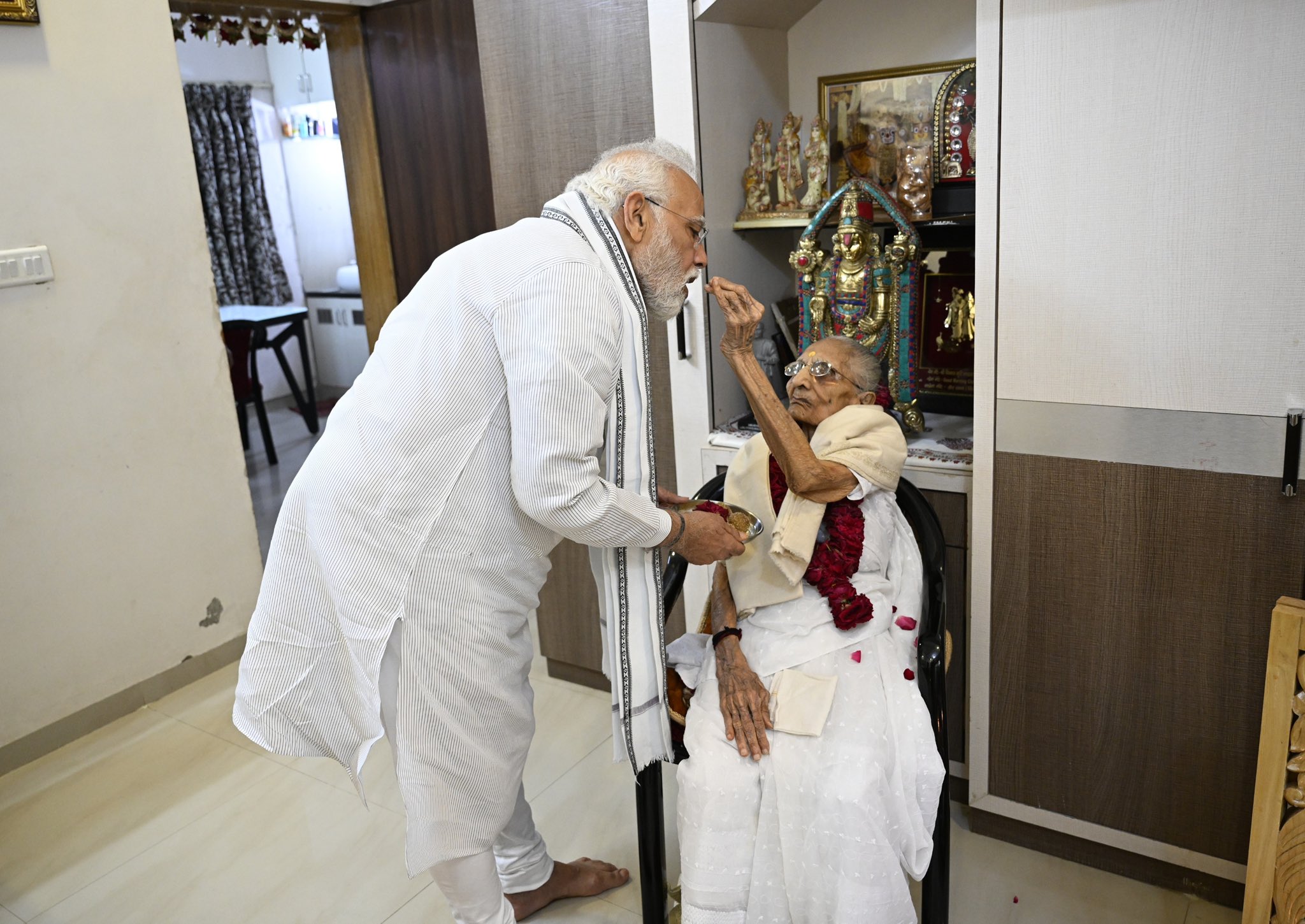 Modi with his mother on her 100th birthday
A mother's sacrifice creates a good man. Her affection instills human values ​​and compassion in children. Mother is not a person or a personality.. Motherhood is not a quality... To put it more deeply - we often hear that deities are shaped by the nature of their devotees. In the same way we experience our mothers and their motherhood according to our own nature and mentality.
My mother was born in Visnagar in Mehsana, Gujarat. It is near our hometown Vadnagar. She did not get her mother's love in her childhood. My grandmother lost her life due to the 'Spanish flu' epidemic at an early age. That's why she doesn't even remember what my grandmother looked like or the affection on her lap. My mother's childhood passed without mother's care. She didn't get the chance to cuddle in her mother's lap like we do. Like all of us, she could not rest in her mother's lap. Also she could not go to school and learn to read and write. She spent her entire childhood in poverty and lovelessness.
PM Modi Mother: A hundred years of perfect life.. Heeraben who recently celebrated her 100th birthday
My mother's childhood was very difficult compared to today's conditions. Perhaps that Sarvantyami wrote her forehead like this! Appropriately enough, Amma also believes that this is God's will. But losing her mother at a young age and not knowing at least her mother's form continues to haunt her.
My mother did not have a smooth childhood due to these hardships - she had to look mature beyond her years. She was the eldest daughter in her family and became the eldest daughter-in-law after marriage. As a child, she used to carry all the family burden on her shoulders and take care of all the chores herself. Similarly, even after marriage, she shouldered all those responsibilities. Despite the heavy responsibilities and daily conflicts, my mother managed to stay calm and strong without letting it affect the family.
In Vadnagar, our family used to live in a small house without at least a window. And having a bathroom or toilet is a luxury! This single room with mud walls and a mud shell roof is what we call 'house'. All of us - including me, my parents and siblings all live in it!
My father built a 'bed' of bamboo sticks and wooden planks to make my mother's cooking easier. This is our kitchen... if mom cooks on it... the whole family would sit on it and eat. But, my parents took great care to ensure that the anxiety that comes with daily conflicts never marred our family atmosphere. To that extent, both of them used to divide their responsibilities carefully and perform them precisely.
As per the times, my father used to leave for work around four o'clock in the morning. Then the neighbors would say... 'Dad it's 4 o'clock... Damodar Baba has left for work'. Also he never left the custom of praying at the local temple before opening his small tea shop.
Mom is equally immersed in her work. Accordingly, she used to wake up with my father and do all the housework that had to be done in the morning. From grinding flour to sifting rice and pulses, Amma used to do it without any help. While working, she used to sing her favorite devotional songs and kirtans. She also likes the famous devotional song 'Jalkamal Chhadi Jaane Bala.. Swami Amaro Jagse' by Narsi Mehtaji and the lullaby 'Shivaji Nu Halardu'.
My mother never expected children to help her with her work. She never asked me to drop out and help her. But, we used to feel it our duty to help mom in her household chores. I enjoy swimming in our village pond. For that, I used to wrap all the clothes washed at home and take them to the pond and bring them for washing. My swimming was fun as well.
My mother used to work as a carpenter in some houses to meet the household expenses. Besides, she used to spin the spinning wheel and spin yarn to supplement our meager family income. Also, she used to do everything from picking cotton to spinning yarn. Even though we were doing back-breaking work, it was hard for us who were moving around to see that the cotton buds didn't get punctured.
Modi salutes Matrumurthy
No longer does Amma depend on or request others for help in her work. When the rainy season comes, our clay house begins to suffer. However, my mother will take care that we do not suffer any inconvenience. And in the month of June when the fireflies are harvested, she climbs on the roof of our mud house and repairs shells. However, no matter how cleverly she arranged all these things, our old house could not withstand the onslaught of rains.
During the rains, the roof of our house used to leak and the whole interior would be filled with water. My mother used to take great pains to put buckets and pots in every place where water was leaking. She was nicknamed for her mental stability in such dire situations. You will all be surprised if you know how to use the rainwater that has been drained like this for a few days. What better example of water conservation!
My mother took great care in keeping our small house tidy. She spends a lot of time cleaning and beautifying the house. She used to spread the soil with cow dung. Cooking with cow dung pellets gives off a lot of smoke. However, in that windowless house, my mother used to cook in that smoke! As the walls become blackened with soot, occasional brushing is necessary. She used to do this work herself for a fixed period of time. Thus it gives a new look to our dilapidated house. Besides, they also make small earthen vessels to decorate the house. And no one beats her in following the Indian habit of refurbishing old furniture.
My mother had another peculiar habit. She soaks old paper in water and mixes it with tamarind seeds to make a paste. Beautiful portraits are created by pasting pieces of glass on the walls with the help of this glue. She would bring small decorative items from the market and decorate the door beautifully.
My mother was very particular about keeping the bed and the mattress on it clean. The bed does not tolerate even a little dust on the bed. Any stain on the blanket would be dusted off and redone immediately. We all used to be very careful about this. Even today, at this age, my mother makes sure that the blanket on her bed is not wrinkled!
Her urge to make everything right is still strong in her. Although now she lives with my brother and nephew's families in Gandhinagar, she still tries to do all her work by herself at this age. Her attention to cleanliness is still evident today. Whenever I go to Gandhinagar to visit her, she sweetens my mouth with the sweets she makes. Not only that, like a toddler who has drunk milk, she wipes her mouth with a napkin when she is done eating sweets. She always had a habit of keeping something like a handkerchief in the fold of her saree at her waist.
In this way I could write pages upon pages of stories reminiscing about my mother's concern for cleanliness. She also has another quality…shows great respect for those involved in cleanliness and sanitation. I still remember… my mother would not let the workers who came to clean the drain next to our house in Vadnagar without drinking tea from her hand. It is common for all sanitation workers to taste our homemade tea after the work is done!
Another habit of Amma is her special fondness for other creatures. I remember this very well. Every summer, she puts out bowls of water for the birds. The dogs roaming around our house never go hungry. Mom used to make delicious ghee from the milk curd that my father used to get from his tea shop. This ghee is not only for our consumption. Even the cows in our neighborhood had their share. Mother used to feed rotis to the cows every day. Instead of just dry rotis, homemade ghee is spread on them and fed to the cows with love.
Mom used to insist that not even a grain of food should be wasted. Whenever there was a wedding in our neighborhood, she would remind us not to waste food. There is one clear rule at home - eat only as much as you can eat. Even today, Amma eats only as much food as she can eat and does not waste a morsel. A creature of habit, she eats on time, chewing food thoroughly to digest it properly.
Amma finds joy in the happiness of others. Our house may have been small, but she had a big heart. My father's best friend lived in a nearby village. After his untimely death, my father brought his friend's son Abbas to our home. He completed his studies while staying with us. Amma was loving and caring towards Abbas like all my siblings. Every year on Eid she would prepare his favorite dishes. During festivals, it is common for the neighborhood children to come to our house and enjoy mom's special preparations.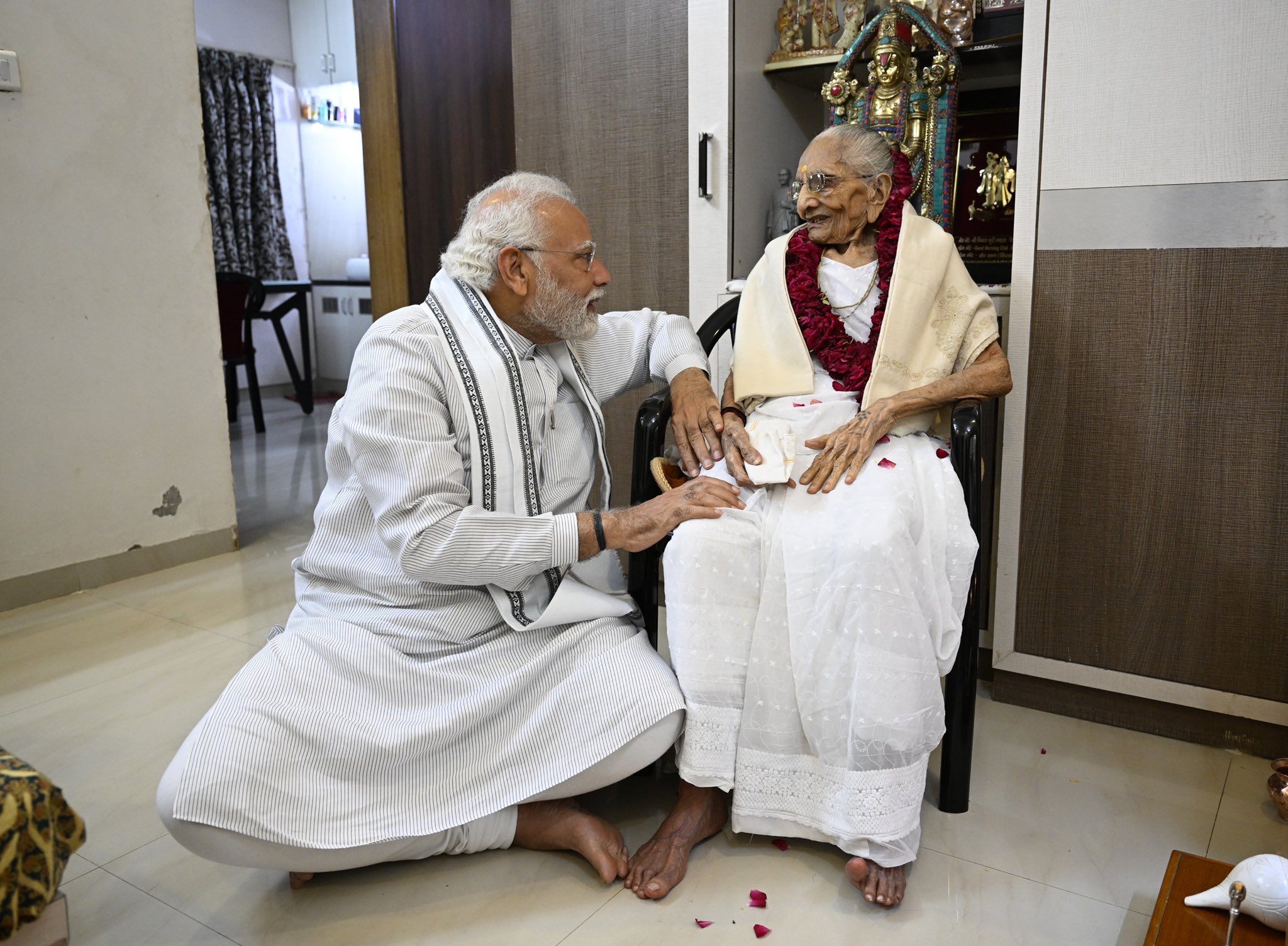 Modi affectionately with mother
Whenever the saint was going from our neighborhood, Amma would humbly invite them to our house for dinner. A testament to her selfless nature is that she used to ask saints to bless us children rather than asking anything for her. She exhorts them, "Bless my children so that they may be happy in the happiness of others. Sympathetic in their sufferings. Let them have bhakti (devotion to God) and sevabhava (service to others)" to the saints.
Amma taught Samskaras. She has immense faith in me. I remember an incident from decades ago when I worked in an organization. I was very busy with organizational activities and could not keep in touch with my family. During that time my elder brother took my mother to Badrinath ji and Kedarnath ji. Locals came to know that after completing darshan in Badrinath, my mother would visit Kedarnath ji.
But suddenly the atmosphere changed. Some came down with blankets. They kept asking old women on the roads if she was Narendra Modi's mother. Finally, they met Amma. She was given blankets and tea. They made comfortable arrangements for her stay in Kedarnath. This incident greatly affected Amma. When she met me later, she said, "You seem to be doing a good job of getting people to recognize you."
Today, many years later, whenever people ask her if she is proud that her son has become the Prime Minister of the country, Amma gives a profound answer. She said… "I'm as proud as you are. Nothing is mine. I am just an instrument in God's plans."
You may have noticed that mom never accompanies me to any government or public functions. She had accompanied me only on two previous occasions. Once, at a public function in Ahmedabad, she put a tilak on my forehead after I returned from Srinagar where I had hoisted the national flag at Lal Chowk after completing the Ekta Yatra.
It was a very emotional moment for Amma as some people were killed in the terror attack in Phagwara during the Ekta Yatra. At that time she was very worried. Two men called to check on me. One is Shradhe Paramakh Swamy of Akshardham temple and the second is Amma. Her relief was palpable. The second was when I took oath for the first time as Chief Minister of Gujarat in 2001. The swearing-in ceremony two decades ago was the last public function that Amma attended with me. Since then she has not come with me to a single public event.
I remember another incident. When I became Chief Minister of Gujarat, I wanted to honor all my teachers in public. Mom is my biggest teacher in life and I thought I should respect her too. Even our scriptures mention that there is no greater teacher than mother - 'Nasti matru samo guruh'. I requested Amma to attend this event, but she refused. She said, "Look, I'm a normal person. "I may have given birth to you, but the Almighty has taught you," she said.. All my teachers were honored that day.
Additionally, before the event, she asked if anyone from our local teacher Jetabhai Joshi Ji's family would attend the event. He oversaw my early learning, even teaching me the alphabet. She remembered him. He was found dead. Even though she did not attend the program, she made sure that I called anyone from Jetabhai Joshi Ji's family. Her way of thinking and visionary thinking always amazed me.
She was always aware of her responsibilities as a citizen. Since the elections started, she has voted in every election from Panchayat to Parliament. A few days ago she also went to vote in the Gandhinagar Municipal Corporation elections.
She often tells me that nothing will happen to me because I have blessings from people and from Almighty God. She reminds me that if I want to continue to serve people, it is necessary to lead a healthy lifestyle, to ensure an image of personal norms.
Before this, Amma strictly observes Chaturmasa Deeksha. She also knows my personal habits during Navratri. Now, she started telling me that I should relax these strict personal rules as I have been following them for a long time.
Never heard mom complain about anything in her life. She never complains about anyone or keeps any expectations from anyone. Even today Amma has no assets in her name. I have never seen her wearing gold jewellery. She is not even interested. As before, she maintains a very simple lifestyle in her small room.
Amma had immense faith in God, but at the same time, she shunned superstitions and instilled the same qualities in us. She is traditionally of Kabir lineage, and continues to follow those rituals in her daily prayers. She spends time chanting with her beads. Engaged in daily pujas and chants, she often gives up even sleep. Sometimes, my family would hide prayer beads to make her sleep.
Mom has a good memory despite her age. She vividly remembers events from decades ago. Whenever some relatives visit her, she immediately remembers the names of their grandparents and identifies them accordingly. She keeps abreast of the happenings in the world. Recently, I asked her how long she watches TV every day. She replied that many people on TV are busy fighting with each other and she only sees those who calmly read the news and explain everything. I was surprised that Mom kept track of so many things.
I will relate another incident regarding her miraculous memory. In 2017, I went to Ahmedabad after campaigning in Kashi for the Uttar Pradesh Assembly elections. I took prasadam for her. When I met my mother, she asked whether Kashi Vishwanadha Mahadev had darshan or not. Her lord is remembered with the full name of Kashi Vishwanad Mahadev. He asked if the paths leading to the Kashi Vishwanath temple were still the same, as if they were in the courtyard of someone's house. To my surprise, I asked him when he had visited this temple. She says that she went to Kashi many years ago.
But she still remembers everything there. Amma garu is not only very sensitive minded but also very loving and talented person. She knows many home remedy tips for treating children. Every morning at our Vadnagar house, there was a queue of parents who brought their children. They get tested and treated by mom. She needed soft powder for treatment. It was our collective responsibility as children to put it together. Ashes from the stove, a bowl and a cloth for dusting. We used to tie the cloth to the bowl and put ashes on it. They said, "It should come out soft, be careful. Otherwise, the children will be in trouble."
Let me tell you about another incident related to Amma's love and concentration. Once our family went to Narmada Ghat for puja as per my father's wishes. Travel there for three hours. But we left early in the morning to avoid the heat of the sun. After landing there, you have to walk a little further. As the sun was high, we walked along the river bank in the water. Walking in water is not easy. We are tired of it. Hungry too. Noticing the situation in which we were in trouble, my mother asked my father to stop for a while and take rest and leave. She told him to go near there and bring jaggery. He immediately went and brought jaggery. Jaggery and water gave us strength from time to time. So we walked again and moved forward. Going to worship in the sun, mom's punctuality, dad bringing jaggery immediately, all these moments are very memorable for me.
I have been watching since childhood. Amma, apart from respecting the wishes of others, never imposed her opinion on others. Especially in my case, she respects my decisions. No barriers were ever created. They have always encouraged me. Since childhood, she felt that I had developed a different mindset. I was a bit different compared to my brothers and sisters.
From time to time she had to make special efforts to accommodate my special habits, unusual experiments and special needs. But she never took it as a burden and expressed her impatience. For example, I used to eat only milk for a few months, but for a few months I stopped eating any grains. I used to give up sweets for six months. In winter, I used to sleep outside and bathe in cold water from an earthen pot. Mom knew I was testing myself. She did not object to any of these. "Okay, but do as you like," she said. She sensed that I was going in a different direction. Once, a Mahatma came to Giri Mahadev temple near our house. I am serving Him with devotion. At that time, she was eagerly waiting for her sister's wedding which was going to happen in a few days.
However, if all the family members were getting ready to go to the wedding, I said that I don't want to go. She asked the reason for that. I explained to her that I was serving the Mahatma. Naturally, she was very disappointed that I was not attending her sister's wedding. But she respected my decision. But, he said, do as you like. But thinking that how can I manage at home alone, she prepared tiffins, enough food for a few days, so that I would not be hungry.
When I decided to come home, mom sensed this before I told her. I often told my parents that I wanted to go out and understand the world. I used to tell them about Swami Vivekananda. He used to say that he wanted to see the Ramakrishna Mission. This went on for many days. Finally, I decided to come from home and sought mother's blessings. Dad was very sad. He got angry. Chey said as you like. But I told them that I will not leave the house without their blessings. Somehow Amma granted my wish and blessed me. "Do as your heart tells you," she said. To appease my father, she asked me to show my horoscope to an astrologer. My father showed my horoscope to one of our relatives who knows astrology. He said, "His path is different. He walks in the path that God has chosen for him."
A few hours later I left the house. By then, my father understood my decision. They bestowed his blessings. Before I came home, mom fed me curd and jaggery as a sign of a new beginning. She knew that my life was going to be completely different from now on. Mothers can be very good at controlling their emotions, but when their child leaves home, they are very sad. After I left home, I always remembered her blessings. I remember them wherever and however I am. Mom always spoke to me in Gujarati. In Gujarati, younger people and peers are called 'tu' for 'you'. If we want to say 'you' to those who are older than us, we call them 'them'. When I was a child, my mother always used 'Tu'. She stopped addressing Tu after I left home and took an innovative path. Since then she always called me Tame or Aap.
Amma always inspires a strong will to focus on the upliftment of the poor. I remember well, when the decision was made to become the Chief Minister of Gujarat, I was not in the state. As soon as I landed there, I went straight to the store. She was very excited and asked if I was going to be back with them. But she knew what my answer would be. Then she said, I don't know what your job is in the government. But they said never take bribe.
After I came to Delhi, my chances of meeting her were less than before. Sometimes when I went to Gandhinagar, I used to come with my mother for a short while. I am not able to meet my mother as often as before. But mother did not think anything of this. Her love and affection remained the same. Her blessings are the same. Amma would occasionally ask, "Are you happy in Delhi? Do you like it?" She used to tell me not to worry about her and not to distract from responsibilities. Whenever I talk to mom on the phone, she always says the same thing, "Don't do anything wrong. Don't do anything bad to anyone, work for the poor."
Looking back on my parents' lives, their greatest asset was their honesty and self-respect. Despite poverty and the challenges associated with it, my mother and father never left the path of honesty. Nor did they risk their self-respect. Their mantra to overcome any challenge is hard work, continuous effort! My father never burdened anyone in his life. Mom tries to stay the same. As much as possible she does her own work.
Even now, when one meets Amma, she always says something like "I don't want to be served by others. I want to die while all my organs are still functioning". In Amma's life story, I see the handiwork, penance and sacrifice of India's mother power. Whenever I see Amma and crores of women like her, I find that there is nothing Indian women cannot achieve.
Beyond every story of deprivation, a wonderful story about a mother. A mother is strong willed, far above every struggle. Happy birthday mom. Best wishes for starting the year of Shata Vasantha on birthday. Never before have you dared to write about your life so openly and so long. I pray to God that you are healthy and happy. We all need your blessings. Saluting your feet," PM Modi concluded his emotional post.
తెలుగు వార్తలు, తెలుగులో బ్రేకింగ్ న్యూస్ న్యూస్ 18‌లో చదవండి. రాష్ట్రీయ, జాతీయ, అంతర్జాతీయ, టాలీవుడ్, క్రీడలు, బిజినెస్, ఆరోగ్యం, లైఫ్ స్టైల్, ఆధ్యాత్మిక, రాశిఫలాలు చదవండి.
Tags: Gujarat, Heeraben Modi, Narendra modi